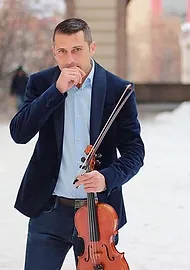 Krassie D.​
The creativity behind Café Del Arte.
​Krassi is a well-known Violin player from Bulgaria, putting his creativity into the décor and ambiance of the café making it unique and different, he often plays the violin especially on the special events we are hosting throughout the year.
​He started playing since the age of 4 and studied at the conservatorium in Holland and still travels the world to play.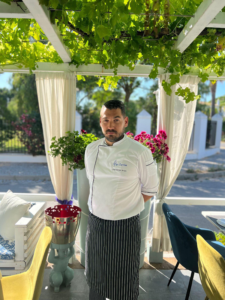 David Borges
Our Chef…
David Borges was born on May 18, 1984 and quickly learned in the Portuguese navy that those who are not fit to serve are not fit to live…
The adventure and growth continued in Africa, in Equatorial Guinea, where for the first time he had the responsibility of preparing menus, acquiring the raw materials for them and formatting a staff, heading a cafeteria for a universe of 600 meals a day!
He continued his journey working as head of departure at the Palácio de Congressos do Algarve.
In 2022, he traded quantity for quality and had the honor of being part of what would become the farewell of the great Chef António, who had an unconditional love for the art of serving and from whom he learned better about this kitchen with passion and dedication concept. .
Today David is with us at Café del Arte and you can come and prove his passion for food, see our service and find a whole passionate team dedicated to the art of welcoming people.